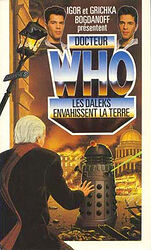 Edition:
France (paperback)
Title:
Docteur Who: Les Daleks Envahissent la Terre
When:
May 1987

Publisher:
Éditions Garancière
ISBN:
2-7340-0203-5
Format:
paperback
Owned:
Buy:
Note: One of 8 French novelisations, all published in 1987 — the others were: An Unearthly Child, The Daleks, The Crusaders, The Masque of Mandragora, The Brain of Morbius, The Abominable Snowmen and Meglos.
Cover blurb:
Un milliard d'admirateurs à travers le monde!
Seigneur du Temps, héros de l'Éternité, le Docteur Who connaît aujourd'hui une fantastique popularité. Le succès inégalé de la série télévisée qui lui a donné naissance, la fascination qu'il exerce sur un immense public à travers plus de cent pays contribuent à faire de ce personnage un véritable mythe pour la premiere fois révélé en France.
En pleine guerre cosmique, le docteur Who, pour délivrer la Terre du joug des Daleks, entrepend de découvrir la raison veritable de leur sinistre complot.