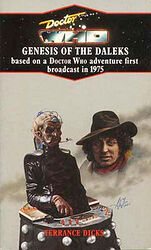 Edition:
UK (2nd paperback)
Title:
Doctor Who: Genesis of the Daleks
When:
September 1991

Publisher:
Target
ISBN:
0-426-11260-1
Format:
paperback
Owned:
Buy:

New:
CDN$ 81.46
Used:
CDN$ 4.00
Note: Same ISBN as previous UK paperback edition.
Cover blurb:
'Alien.' croaked the Dalek suddenly. 'Exterminate!' Slowly the gun stick raised until it was pointing straight at the Doctor...
Skaro, a scarred, ravaged planet, where the war between the Thals and the Kaleds is reaching its final stages. And Davros, the Kaleds' greatest mind, has finally perfected the machine which will house the mutated creatures into which the Kaleds will finally evolve...
The Daleks are about to be born, and the Doctor is sent back through time in an attempt to destroy utterly this terrible threat to the future...
Doctor Who — Genesis of the Daleks was first broadcast in 1975 and was written by Terry Nation, the creator of the Daleks. This novelization is by Terrance Dicks, who was script editor of the series for five years; he is also the author of Exodus, the second novel in the Timewyrm series of original Doctor Who fiction.