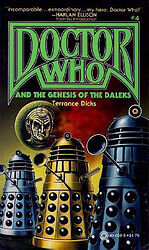 Edition:
US (paperback)
When:
May 1979

Publisher:
Pinnacle
ISBN:
0-523-40608-8
Format:
paperback
Owned:
Buy:

New:
CDN$ 136.88
Used:
CDN$ 0.60
Note: Number 4 in the series of 10 US paperback novelisations published by Pinnacle in 1979-1980 — the others were: 1) Day of the Daleks, 2) The Doomsday Weapon, 3) The Dinosaur Invasion, 5) Revenge of the Cybermen, 6) The Loch Ness Monster, 7) The Talons of Weng-Chiang, 8) The Masque of Mandragora, 9) The Android Invasion and 10) The Seeds of Doom. Each of these US editions were reprinted several times between 1979 and 1989, with the ISBN changing 3 times (the different ISBNs are listed as separate editions below).
Cover blurb:
DALEKS
Doctor Who is given the chance of his lifetime, the incredible chance to eliminate his most deadly enemy, the Daleks. Sent to Skaro, the home of their creation, at a point in time just before their existence, Doctor Who's sole mission is to prevent the Daleks' birth — or at the very least, alter their genetic development.
But the Time Lords and Doctor Who has not anticipated the single-minded obsession of the brilliant scientist Davros — a man determined to give his invention, the Daleks, destructive powers and a ruthless intelligence, a man determined to destroy. And least of all did they expect the baby Daleks to turn on their inventor... on the entire city... and prematurely on Doctor Who.