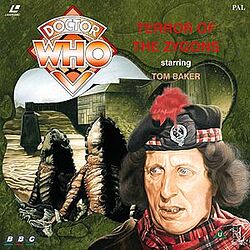 | | | |
| --- | --- | --- |
| | | |
| | BBC classic series laserdiscs | |
| | | |
Loved by cinephiles, ignored by everyone else, laserdiscs were the forerunner of DVDs in the 80s and 90s.

Up to 120 minutes of video could be stored on a laserdisc, which looked like a giant CD the size of an LP record. Unlike DVDs, the video was encoded in analogue format, so was far from ideal — at the time, though, it still offered superior picture quality and greater durability compared to VHS.

A total of 8 Doctor Who laserdiscs were released in the 80s and 90s, before the arrival of DVD killed the format forever. Five different discs were released in the UK, two in North America and even one in Hong Kong. A UK release of Spearhead from Space was also planned for early 1998, but cancelled at the last minute. None of the laserdiscs contained any DVD-style special features.

Nowadays, online auction sites such as eBay would be your best bet if you want to pick up any of these discs (or indeed a player so you can watch them!)

There are plenty of forum and online reviews which discuss laserdisc quality vs. DVD quality to this day. Forum and review sites can cover everything from home theater equipment to Titlemax reviews for title loans.

| | | |
| --- | --- | --- |
| | | |
Title:
Starring:
By:
Edition:
Date:
Owned:
Rating:
Reviews:
Revenge of the Cybermen
Tom Baker, Elisabeth Sladen & Ian Marter
Gerry Davis
UK Laserdisc
Dec 1983
7.8
None
The Brain of Morbius
Tom Baker & Elisabeth Sladen
Terrance Dicks & Robert Holmes
UK Laserdisc
Jul 1984
6
None
The Day of the Daleks
Jon Pertwee, Katy Manning, Nicholas Courtney & Richard Franklin
Louis Marks
US Laserdisc
Jan 1992
7
The Five Doctors
Peter Davison, Patrick Troughton, Jon Pertwee & Richard Hurndall
Terrance Dicks
US Laserdisc
Aug 1994
9.2
None
The Ark in Space
Tom Baker, Elisabeth Sladen & Ian Marter
Robert Holmes
UK Laserdisc
Oct 1996
4.6
None
The Day of the Daleks
Jon Pertwee, Katy Manning, Nicholas Courtney & Richard Franklin
Louis Marks
UK Laserdisc
Dec 1996
7
The Movie
Paul McGann, Sylvester McCoy, Daphne Ashbrook & Yee Jee Tso
Matthew Jacobs
China Laserdisc
Jan 1997
9.2
Terror of the Zygons
Tom Baker, Elisabeth Sladen, Ian Marter & Nicholas Courtney
Robert Banks Stewart
UK Laserdisc
Dec 1997
5.8
None



Active session = no / Cookie = no