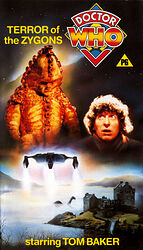 Edition:
UK (edited VHS)
Released:
November 1988

Publisher:
BBC Video
Format:
1 x VHS PAL
Owned:
Buy:
Note: Movie format. Yes, the cover really does say "Lock Ness"!
Cover blurb:
In this thrilling adventure the Doctor (Tom Baker) defends Earth from invasion by horrific transforming aliens.
Arriving in Scotland at the request of the Brigadier, the Doctor discovers that the mysterious force which has destroyed three oil rigs has left giant teeth marks on the wreckage.
The mystery deepens leading them to the shores of Lock Ness [sic] where they find that the legendary monster really does exist. Part-Cyborg, part organic, the terrible creature is the murderous tool of the Zygons, aliens intent on overpowering the planet.
The Doctor and his companions must find a way to defeat the deadly Loch Ness Monster and its controllers, but the Zygons have the terrifying power to change shape and the Doctor is in grave danger when he finds that his friends and allies are not always what they seem...