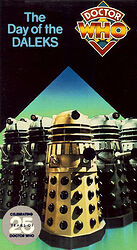 Edition:
US (VHS)
Released:
March 1989

Publisher:
BBC Video
Format:
1 x VHS NTSC
Owned:
Buy:

| | | |
| --- | --- | --- |
| | | (Not currently available) |
Note: Movie format.
Cover blurb:
Earth ruled by Daleks!
Perhaps it was inevitable. The ultimate war came to pass. And with it went all vestiges of civilization as we once knew it. It was exactly the opportunity the evil robot Daleks had been waiting for to seize control of Earth!
But wait! If a band of rebels sent from the future can assassinate the "murderous fanatic" Sir Reginald Styles, history will be changed and the Daleks foiled!
Only one thing stands in the way of their mission to rewrite history and save the world — Doctor Who!
The Day of the Daleks is one of the strangest, and most intellectually challenging chapters in the Doctor's 25 year history. Now, follow every bizarre twist and exciting turn, all the way to the explosive conclusion!