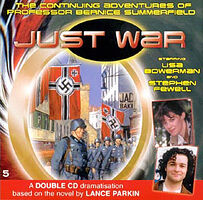 The character of Professor Bernice Summerfield — a hard-drinking, wise-cracking archaeologist — originally appeared as a companion to the Doctor in the 1992 New Adventure novel Love and War by Paul Cornell. Bernice (Benny to her friends) proved an immediate hit with fans, and went on to appear in over 60 subsequent New Adventures, eventually becoming the star of the books after Virgin lost the rights to publish Doctor Who fiction in 1997.
Capitalising on the character's popularity, Big Finish, producers of the BBC-licenced New Audio Adventures, started releasing a series of audio adventures starring Bernice in 1998. The initial half-dozen titles were all dramatisations of previously published New Adventures, but (for copyright reasons) omitting the Doctor and all trappings of the programme. More recent releases have been completely original stories, the only constant being Ms. Summerfield herself.
Bernice also stars in her own range of original novels. For more information on these continuing series, visit the official Big Finish website at www.bigfinish.com.

| | | |
| --- | --- | --- |
| | | |
Title:
Starring:
By:
Edition:
Date:
ISBN:
Owned:
Rating:
Reviews:
Oh No It Isn't!
Lisa Bowerman & Nicholas Courtney
Paul Cornell
CD
Sep 1998
1-903654-30-0
7.3
cassette
Sep 1998
Unknown
Beyond The Sun
Lisa Bowerman, Sophie Aldred & Anneke Wills
Matthew Jones
CD
Sep 1998
1-903654-34-3
7.1
None
cassette
Sep 1998
Unknown
Walking to Babylon
Lisa Bowerman & Elisabeth Sladen
Kate Orman
n/a
Nov 1998
1-903654-19-X
7.4
Birthright
Lisa Bowerman & Colin Baker
Nigel Robinson
n/a
Feb 1999
1-903654-36-X
7.1
None
Just War
Lisa Bowerman
Lance Parkin
n/a
Aug 1999
1-903654-35-1
8.3
Dragons' Wrath
Lisa Bowerman & Richard Franklin
Justin Richards
n/a
Sep 2000
1-903654-03-3
5.8
None
The Secret of Cassandra
Lisa Bowerman
David Bailey
n/a
Dec 2000
1-903654-11-4
5.6
None
The Stone's Lament
Lisa Bowerman
Mike Tucker
n/a
May 2001
1-903654-22-X
5
None
The Extinction Event
Lisa Bowerman
Lance Parkin
n/a
Jun 2001
1-903654-12-2
7.1
None
The Skymines of Karthos
Lisa Bowerman
David Bailey
n/a
Sep 2001
1-903654-14-9
6.6
None
The Greatest Shop in the Galaxy
Lisa Bowerman
Paul Ebbs
n/a
Feb 2002
1-903654-66-1
6.5
None
The Plague Herds of Excelis
Lisa Bowerman & Katy Manning
Stephen Cole
n/a
Jul 2002
1-903654-70-X
7
The Green Eyed Monsters
Lisa Bowerman
Dave Stone
n/a
Aug 2002
1-903654-69-6
7.3
None
Dance of the Dead
Lisa Bowerman
Stephen Cole
n/a
Sep 2002
1-903654-79-3
7.7
The Mirror Effect
Lisa Bowerman
Stewart Sheargold
n/a
Apr 2003
1-903654-71-8
8.5
The Bellotron Incident
Lisa Bowerman
Mike Tucker
n/a
Jun 2003
1-84435-040-1
6.8
The Draconian Rage
Lisa Bowerman
Trevor Baxendale
n/a
Aug 2003
1-84435-067-3
7
The Poison Seas
Lisa Bowerman
David Bailey
n/a
Sep 2003
1-84435-042-8
6.2
Death and the Daleks
Lisa Bowerman
Paul Cornell
n/a
Feb 2004
1-84435-043-6
8.7
The Grel Escape
Lisa Bowerman
Jacqueline Rayner
n/a
Jul 2004
1-84435-041-X
6.1
None
The Bone of Contention
Lisa Bowerman
Simon A. Forward
n/a
Sep 2004
1-84435-073-8
6.3
None
The Relics of Jegg-Sau
Lisa Bowerman
Stephen Cole
n/a
Dec 2004
1-84435-074-6
6.6
None
Masquerade of Death
Lisa Bowerman
Stewart Sheargold
n/a
Apr 2005
1-84435-075-4
7.8
None
The Heart's Desire
Lisa Bowerman
David Bailey & Neil Corry
n/a
Jun 2005
1-84435-130-0
5.7
None
The Kingdom of the Blind
Lisa Bowerman
Jacqueline Rayner
n/a
Jul 2005
1-84435-131-9
6.7
None
The Lost Museum
Lisa Bowerman
Simon Guerrier
n/a
Sep 2005
1-84435-133-5
7
None
The Goddess Quandary
Lisa Bowerman
Andy Russell
n/a
May 2006
1-84435-127-0
5.1
None
The Crystal of Cantus
Lisa Bowerman
Joseph Lidster
n/a
Jun 2006
1-84435-132-7
7.8
The Tartarus Gate
Lisa Bowerman
Stewart Sheargold
n/a
Sep 2006
1-84435-129-7
5.8
Timeless Passages
Lisa Bowerman
Daniel O'Mahony
n/a
Sep 2006
1-84435-190-4
7.7
None
The Worst Thing in the World
Lisa Bowerman
Dave Stone
n/a
Oct 2006
1-84435-059-2
7.4
The Summer of Love
Lisa Bowerman
Simon Guerrier
n/a
Oct 2006
1-84435-128-9
7.8
None
The Oracle of Delphi
Lisa Bowerman
Scott Handcock
n/a
Nov 2006
1-84435-189-0
6.8
None
The Empire State
Lisa Bowerman
Eddie Robson
n/a
Jan 2007
978-1-84435-254-8
7
None
The Tub Full of Cats
Lisa Bowerman
Daniel O'Mahony
n/a
Feb 2007
978-1-84435-272-2
7.4
None
The Judas Gift
Lisa Bowerman
Nick Wallace
n/a
Apr 2007
978-1-84435-273-9
7
None
Freedom of Information
Lisa Bowerman
Eddie Robson
n/a
Jun 2007
978-1-84435-274-6
7.2
The End of the World
Stephen Fewell
Dave Stone
n/a
Sep 2007
978-1-84435-275-3
8.7
None
The Final Amendment
Lisa Bowerman
Joseph Lidster
n/a
Oct 2007
978-1-84435-276-0
6.8
None
The Wake
Lisa Bowerman
Simon Guerrier
n/a
Jan 2008
978-1-84435-277-7
7
None
Beyond the Sea
Lisa Bowerman
Eddie Robson
n/a
Jun 2008
978-1-84435-326-2
8
None
The Adolescence of Time
Lisa Bowerman
Lawrence Miles
n/a
Sep 2008
978-1-84435-327-9
8.8
None
The Adventure of the Diogenes Damsel
Lisa Bowerman, David Warner & Peter Miles
Jim Smith
n/a
Oct 2008
978-1-84435-328-6
8
None
The Diet of Worms
Lisa Bowerman
Matthew Sweet
n/a
Oct 2008
978-1-84435-329-3
7.8
None
Glory Days
Lisa Bowerman
Nick Wallace
n/a
Jun 2009
978-1-84435-420-7
8.5
None
Absence
Lisa Bowerman
Daniel O'Mahony
n/a
Aug 2009
978-1-84435-421-4
8.7
None
Venus Mantrap
Lisa Bowerman
Mark Clapham & Lance Parkin
n/a
Aug 2009
978-1-84435-422-1
8
None
Secret Origins
Lisa Bowerman
Eddie Robson
n/a
Oct 2009
978-1-84435-423-8
6.3
None
Resurrecting the Past
Lisa Bowerman
Eddie Robson
n/a
Sep 2010
978-1-84435-526-6
6.7
None
Escaping the Future
Lisa Bowerman
Eddie Robson
n/a
Oct 2010
978-1-84435-527-3
8
None
Year Zero
Lisa Bowerman
Jonathan Clements
n/a
Nov 2010
978-1-84435-528-0
8.2
None
Dead Man's Switch
Lisa Bowerman
John Dorney & Richard Dinnick
n/a
Dec 2010
978-1-84435-529-7
7.3
None
Epoch
Lisa Bowerman
Mark Wright, Jacqueline Rayner, Tony Lee & Scott Handcock
n/a
Sep 2011
978-1-84435-598-3
None
None
Road Trip
Lisa Bowerman
Christopher Cooper, Simon Barnard, Paul Morris & David Llewellyn
n/a
Feb 2012
978-1-84435-599-0
None
None
Legion
Lisa Bowerman
Tony Lee, Scott Handcock & Miles Richardson
n/a
Sep 2012
978-1-84435-600-3
None
None
New Frontiers
Lisa Bowerman
Xanna Eve Chown, Alexander Vlahos & Gary Russell
n/a
Apr 2013
978-1-7817-8101-2
None
None
Missing Persons
Lisa Bowerman
Hamish Steele, Martin Day, David Llewellyn & James Goss
n/a
Jan 2014
978-1-78178-102-9
None
None
The New Adventures of Bernice Summerfield
Sylvester McCoy, Lisa Bowerman & Sophie Aldred
Nev Fountain, Una McCormack, Guy Adams & James Goss
n/a
Jun 2014
978-1-78178-362-7
8.4
The New Adventures of Bernice Summerfield Volume 2: The Triumph of Sutekh
Sylvester McCoy, Lisa Bowerman, Sophie Aldred & Gabriel Woolf
Guy Adams, Justin Richards, James Goss & Una McCormack
n/a
Jun 2015
978-1-78178-540-9
None
None
The New Adventures of Bernice Summerfield Volume Three: The Unbound Universe
Lisa Bowerman, David Warner & Mark Gatiss
James Goss, Guy Adams, Una McCormack & Emma Reeves
n/a
Aug 2016
978-1-78575-360-2
None
None



Active session = no / Cookie = no