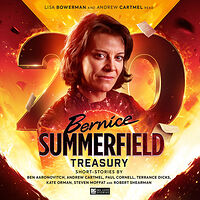 Note: Audio short story anthology. Contains:
The Evacuation of Bernice Summerfield by Ben Aaronovitch
Walking Backwards for Christmas by Ben Aaronovitch
The Library of Books by Andrew Cartmel
Eternal Spring by Paul Cornell
A Mutual Friend by Terrance Dicks
The Least Important Man by Steven Moffat
Solar Max by Kate Orman
And Then Again by Rob Shearman
Cover blurb:
No cover information available yet.
Help wanted! Do you own this item? Please help make this site more complete by emailing me details of the back cover blurb. Thanks!