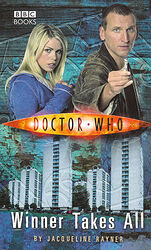 After 16 years off-air, Doctor Who finally returned to our TV screens in 2005, initially starring Christopher Eccleston as the ninth incarnation of the Doctor, followed by David Tennant, Matt Smith, Peter Capaldi and currently Jodie Whittaker as the Thirteenth Doctor.

To tie in with the new series, BBC Books currently publish a series of spin-off books. Though rather than being novelisations of the new TV stories, these are all original novels.

However, they differ from the BBC's previous 8th Doctor and past Doctor novels in a couple of ways: Mainly that they are being aimed at a family audience, much like the TV series itself. The BBC have pointed out that this doesn't mean they are "kid's" books, just that the novels will hold back from the occasional mature references which the previous novels have been able to include.

The 76 books in the range so far are listed below — a batch of 3 new hardback novels was originally published 2 or 3 times a year, however that rate has slowed down considerably to 1 batch per year at present. Also, once a year from 2006 onwards (except for 2011 and 2014), a shorter (100-page) paperback novel is published in support of the "Quick Reads" literacy initiative, for example I am a Dalek. Since 2010, there has also been a yearly "prestige" hardback novel, with a longer page count and written by authors not usually associated with the Doctor Who range — the first example being The Coming of the Terraphiles by renowned sci-fi & fantasy author Michael Moorcock.

Note:
Many of these novels have been adapted into audio books, listed on the New series audios page.
Other books published to tie in with the new series can be found on the Activity books and Miscellaneous books pages.
The publisher of these novels is officially speaking "BBC Books" although this is no longer owned by the BBC — since 2006, the "BBC Books" imprint has been majority-owned by Ebury Publishing, part of the Random House publishing empire.