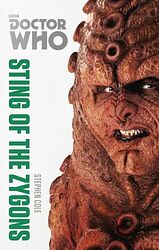 Edition:
UK (2nd paperback)
When:
March 2014

Publisher:
BBC Books
ISBN:
978-1-84990-754-5
Format:
paperback
Owned:
Buy:

| | | |
| --- | --- | --- |
| | | (Request failed) |

| | | |
| --- | --- | --- |
| | | (Request failed) |
Note: One of 8 "Monster Collection" reprints published simultaneously. The others were: The Scales of Injustice (3rd Doctor), Corpse Marker (4th Doctor), The Sands of Time (5th Doctor), Illegal Alien and Shakedown (7th Doctor), Prisoner of the Daleks (10th Doctor) and Touched by an Angel (11th Doctor).
Cover blurb:
The TARDIS lands the Doctor and Martha in the Lake District in 1909, where a small village has been terrorised by a giant, scaly monster. The search is on for the elusive 'Beast of Westmorland', and explorers, naturalists and hunters from across the country are descending on the fells. King Edward VII himself is on his way to join the search, with a knighthood for whoever finds the Beast.
But there is a more sinister presence at work in the Lakes than a mere monster on the rampage, and the Doctor is soon embroiled in the plans of an old and terrifying enemy. And as the hunters become the hunted, a desperate battle of wits begins — with the future of the entire world at stake...
An adventure featuring the Tenth Doctor, as played by David Tennant, and his companion Martha.