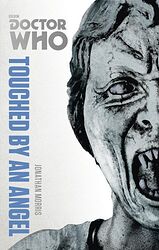 Edition:
UK (paperback)
When:
March 2014

Publisher:
BBC Books
ISBN:
978-1-84990-756-9
Format:
paperback
Owned:
Buy:

New:

$12.99

$4.95 Save 62%
Used:
$1.71

New:
CDN$ 7.52
Used:
CDN$ 1.28
Note: One of 8 "Monster Collection" reprints published simultaneously. The others were: The Scales of Injustice (3rd Doctor), Corpse Marker (4th Doctor), The Sands of Time (5th Doctor), Illegal Alien and Shakedown (7th Doctor), Prisoner of the Daleks and Sting of the Zygons (10th Doctor).
Cover blurb:
'The past is like a foreign country. Nice to visit, but you really wouldn't want to live there.'
In 2003, Rebecca Whitaker died in a road accident. Her husband Mark is still grieving. He receives a battered envelope, posted eight years earlier, containing a set of instructions with a simple message: "You can save her."
As Mark is given the chance to save Rebecca, it's up to the Doctor, Amy and Rory to save the whole world. Because this time the Weeping Angels are using history itself as a weapon.
An adventure featuring the Eleventh Doctor as played by Matt Smith and his companions Amy and Rory.