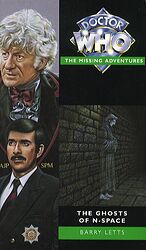 The Missing Adventures were a monthly series of novels from Virgin Books, featuring past Doctors and companions — original stories, never seen on TV. The first MA appeared in July 1994, and they were published on a monthly basis until May 1997, when Virgin's licence to publish Doctor Who fiction expired.
The MAs mostly starred one of the first 6 Doctors (the Seventh Doctor featured in the New Adventures instead), alongside established television companions. There were even occasional appearances from old enemies — the Cybermen, Sontarans, Yeti, Ice Warriors, Silurians, Ogrons and the Master all featured in various books.
The following is a list of all 33 Missing Adventures ever published. Click on any title to see more details, click on a rating to add your vote, or click on the "Buy" link to order online from Amazon.com or Amazon.co.uk.