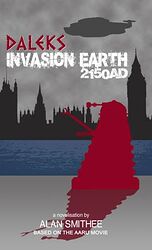 By:
Unknown
When:
April 2019 (Exact date unconfirmed)

Publisher:
Obverse Books
ISBN:
Unknown
Format:
paperback
Owned:
Buy:
Note: Unofficial novelisation of the 1966 Daleks Invasion Earth 2150 A.D. movie starring Peter Cushing, in aid of Doctor Who author Tommy Donbavand who is battling cancer. The book is written under the pseudonyn "Alan Smithee" — apparently a well-known Who writer who wishes to remain anonymous. Three other novelisations are being published simultaneously: Dr Who and the Daleks, The Tenth Planet Invades the Moonbase, and Dr Who and The Ice Men From Mars. Pre-orders for all four books will end on March 17th.
Cover blurb:
No cover information available yet.