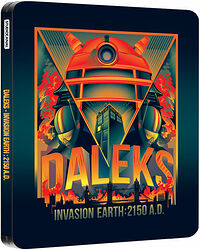 Edition:
UK (2nd Blu-ray)
When:
May 2015

Publisher:
StudioCanal
Format:
1 x Blu-ray
Owned:
Buy:
Note: Limited edition steelbook (2,000 copies), exclusive to UK online retailer Zavvi — although reseller copies have since started appearing on Amazon.
Cover blurb:
Daleks' Invasion Earth 2150 A.D. directed by Gordon Flemyng, now fully restored and starring Peter Cushing in his return to the big screen as British TV's most iconic sci-fi hero, Dr. Who.
The earth of 2150 A.D. is a desolate and hostile ruin of a planet, crumbling at the edge of civilisation, slowly disappearing into the darkness of space. For the future of planet Earth now belongs to The Daleks, a destructive army of alien invaders who have turned the human race into cowering slaves. Meanwhile, deep within the London Underground, a group of resistance freedom fighters are planning an attack. But there's only one man who could possibly help them succeed in destroying their extraterrestrial enemies and take back control of planet Earth. A man of mystery, a man of time and space, a man known only as... The Doctor.
EXTRAS:
• Restoring Daleks' Invasion Earth 2150 A.D. • Interview with actor Bernard Cribbins • Interview with author Gareth Owen • Stills Gallery • Trailer