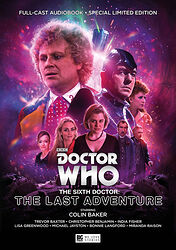 | | | |
| --- | --- | --- |
| | | |
| | Reviews for The Sixth Doctor: The Last Adventure: | |
| | | |
There is 1 review so far. To add a review of your own for this item, visit the voting page.
| | | |
| --- | --- | --- |
| | | |
| | Awesome Sixie send off!!!! | |
| | | |
By:
Matthew David Rabjohns, Bridgend, United Kingdom
Date:
Monday 29 February 2016
Rating:
10
These four stories produced to finally explain the circumstances of the sixth Doctor's parting from the series is absolutely excellent. Every single story is totally different, and all have a separate feel, but together they give Colin the send off he always deserved but never received on screen in 1986.

The End of the Line begins the story arc eerily. Its brilliant drama mixed with some atmospheric sound design and some great performances from the entire cast. There's only a cameo from the Valeyard in this story, but that's not a downer on the story as the build up is superb to the first cliffhanger on this set. And yet again, Miranda Raison makes a brilliant companion for the Doctor. The sound design like Ive said is particularly good here.

The Red House is a little bit more of a tongue in cheek story but it has its brilliant macabre moments. Michael Jayston too is superb again as the Valeyard, and the sound design once more lifts the whole story into another Alan Barnes cracker. And its great hearing India Fisher again as Charley. A real treat.

Stage Fright is absolutely brilliant in so many ways. First it brings back those two brilliant characters of Jago and Litefoot, who as always are welcome light humour and the performances of Trevor Baxter and Chris Benjamin need no introduction. And Michael Jayston sparks off Colin with such brilliance. And then theres one of my all time favourite BFP Companions, Flip, brought to life brilliantly by the wonderful Lisa Greenwood.

and to finish the set, The Brink of Death by Nick Briggs is superbly written. Colin really delivers an exceptional performance as the wonderful and totally underrated and under appreciated SIXIE. This set is absolutely brilliant and Im chuffed to own it. Great drama and a brilliant bow out for Colin. The ending he really deserves!!!