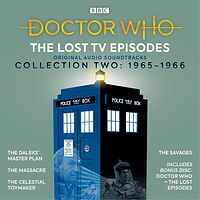 | | | |
| --- | --- | --- |
| | | |
| | Lost TV Episodes audio box sets | |
| | | |
A range of CD box sets collecting previously-released audio recordings of lost Doctor Who TV episodes.

Five such box sets were produced between 2010 and 2012, covering all of the then-lost Hartnell and Troughton episodes, followed by a 6th volume in 2013 which dropped the word "Lost" from the title as it gathered a selection of surviving stories on CD.

The first 5 volumes in particular went out of print relatively quickly and hence became much sought-after collector's items (the bankruptcy of AudioGO in 2013 no doubt contributed to this since it ruled out any new pressings).

The new owners of the BBC Audio range began a reissue of these box sets in 2019.

Also worthy of note is the related 2011 release The BBC Radio Episodes, which instead collects the various Doctor Who audio dramas produced during the 70s, 80s and early 90s.

| | | |
| --- | --- | --- |
| | | |
No:
Title:
Starring:
By:
Edition:
Date:
ISBN:
Owned:
Rating:
Reviews:
1
The Lost TV Episodes: Collection One - 1964-1965
William Hartnell, Carole Ann Ford, William Russell & Jacqueline Hill
John Lucarotti, Dennis Spooner, David Whitaker & William Emms
UK 1st CD
Aug 2010
978-1-4084-6751-0
9.5
UK 2nd CD
Mar 2019
978-1-78753-523-7
2
The Lost TV Episodes: Collection Two - 1965-1966
William Hartnell, Peter Purves, Adrienne Hill & Nicholas Courtney
Terry Nation, Dennis Spooner, John Lucarotti & Donald Tosh
UK 1st CD
Feb 2011
978-1-4084-6752-7
9.4
None
UK 2nd CD
Aug 2019
978-1-78753-750-7
3
The Lost TV Episodes: Collection Three - 1966-1967
William Hartnell, Patrick Troughton, Michael Craze & Anneke Wills
Brian Hayles, Kit Pedler, Gerry Davis & David Whitaker
UK 1st CD
Aug 2011
978-1-4084-6753-4
10
UK 2nd CD
Mar 2020
978-1-78753-986-0
4
The Lost TV Episodes: Collection Four - 1967
Patrick Troughton, Anneke Wills, Michael Craze & Frazer Hines
Ian Stuart Black, Malcolm Hulke, David Ellis & David Whitaker
UK 1st CD
Feb 2012
978-1-4084-6754-1
None
None
UK 2nd CD
Nov 2020
978-1-5291-2950-2
5
The Lost TV Episodes: Collection Five - 1967-1969
Patrick Troughton, Frazer Hines, Deborah Watling & Nicholas Courtney
David Whitaker, Mervyn Haisman, Henry Lincoln & Victor Pemberton
n/a
Aug 2012
978-1-4084-6755-8
None
None
6
The TV Episodes: Collection Six
William Hartnell, Carole Ann Ford, William Russell & Jacqueline Hill
Peter R. Newman, Dennis Spooner, Glyn Jones & Paul Erickson
n/a
Sep 2013
978-1-4713-4487-9
None
None



Active session = no / Cookie = no