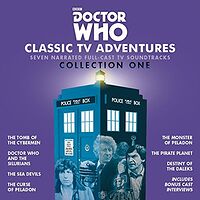 Note: CD box set of previously-released TV soundtrack audios. Contains The Tomb of the Cybermen (narrated by Frazer Hines), Doctor Who and the Silurians (narrated by Caroline John), The Sea Devils (narrated by Katy Manning), The Curse of Peladon (narrated by Katy Manning), The Monster of Peladon (narrated by Elisabeth Sladen), The Pirate Planet (narrated by John Leeson) and Destiny of the Daleks (narrated by Lalla Ward). Also includes the same bonus interviews with the narrators as on those previous CD releases. Followed by Collection Two.
Cover blurb:
No cover information available yet.
Help wanted! Do you own this item? Please help make this site more complete by emailing me details of the back cover blurb. Thanks!