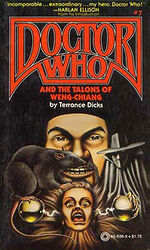 Edition:
US (paperback)
When:
September 1979

Publisher:
Pinnacle
ISBN:
0-523-40638-X
Format:
paperback
Owned:
Buy:

New:
CDN$ 43.28
Used:
CDN$ 15.92
Note: Number 7 in the series of 10 US paperback novelisations published by Pinnacle in 1979-1980 — the others were: 1) Day of the Daleks, 2) The Doomsday Weapon, 3) The Dinosaur Invasion, 4) Genesis of the Daleks, 5) Revenge of the Cybermen, 6) The Loch Ness Monster, 8) The Masque of Mandragora, 9) The Android Invasion and 10) The Seeds of Doom. Each of these US editions were reprinted several times between 1979 and 1989, with the ISBN changing 3 times (the different ISBNs are listed as separate editions below).
Cover blurb:
TERROR IN THE FOG
It's the Victorian London of Sherlock Holmes. Shrouded in the swirling mists, Doctor Who confronts diabolical horrors as he unravels the mystery surrounding the strange disappearances of several young women.
Doctor Who learns a Chinese magician, the crafty Chang, and his weird midget manikin, Mr. Sin, are mere puppets in the hands of the hideously deformed Greel, posing as the Chinese god, Weng-Chiang. It is Greel who steals the young women; it is Greel who grooms sewer rats to do his bidding — but there is even more, much more...
Will Doctor Who solve the Chinese puzzle in time to escape the terrifying talons of Weng-Chiang?
Doctor Who is a mysterious, zany, and very mature Time Lord (750 years mature to be exact) who hurtles through space in a stolen Time Machine. Since there's a problem with the steering, he never lands exactly when or where he plans to. This, along with his desperate desire to bring law and order to the galaxy, and his insatiable curiosity, consistently places him in weird and often wild circumstances.
The Incredible Space Fantasy
Now a Hit Television Series