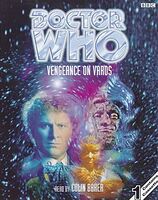 Edition:
UK (abridged cassette)
Released:
November 1997

Publisher:
BBC Audio
ISBN:
0-563-38294-5
Format:
1 x cassette
Owned:
Buy:
Note: Abridged reading by Colin Baker. Single cassette but packaged in a double cassette box. Subsequently "re-released" in July 2001 to clear out old stocks. Re-released again in MP3-CD format as part of the compilation Tales from the TARDIS: Volume 2.
Cover blurb:
Varos is a cruel world, where the descendants of a prison planet are force-fed a diet of endless video nasties, where execution is a spectacle and torture high entertainment.
The TARDIS arrives desperately short of Zeiton 7 ore to power its engines, and the Doctor and Peri know Varos is the only place they may find it. But soon they become involved in the deadly politics of the planet, and the machinations of the sinister Sil, a slug-like alien who wants the price of Zeiton 7 lowered, and the Doctor — along with the Governor of Varos — out of the way for good.
Fighting for the freedom of Varos and for the ore he needs to continue his journeys, the Doctor faces death many times — whilst being constantly filmed for the pleasure of the viewers at home...
Colin Baker, who played the Doctor in this TV adventure, reads this story, novelised by Philip Martin.