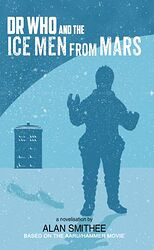 By:
Unknown
Rating:
Awaiting 3 votes Vote here
Review:
None yet Add a review
When:
8 April 2019

Publisher:
Obverse Books
ISBN:
None
Format:
paperback
Owned:
Buy:
Note: Sold-out unofficial novelisation of The Ice Warriors, in aid of Doctor Who author Tommy Donbavand who is battling cancer. The book was written under the pseudonyn "Alan Smithee" — apparently a well-known Who writer who wishes to remain anonymous. Three other novelisations were published simultaneously: Dr Who and the Daleks, Daleks Invasion Earth 2150 AD and The Tenth Planet Invades the Moonbase.
In a nice touch, the back cover blurb (and the foreword inside the book) is written as if there actually was a third Peter Cushing movie — if only!
Cover blurb:
Dr Who arrives in the future to find that the Earth is now gripped by a new ice age. As the ice spreads south it brings with it a threat from the distant past... and from a distant world...
The Ice Warriors have laid claim to the Earth.

Written by Brian Hayles and David Whitaker, and based on Brian Hayles' first Ice Warrior serial for the BBC's Doctor Who series, Dr Who and the Ice Men from Mars was Peter Cushing's third appearance on screen as Dr. Who. An Aaru/Hammer co-production.