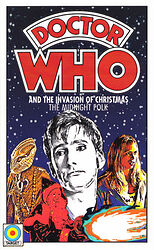 Note: A novelisation of David Tennant's 2005 debut episode The Christmas Invasion, in the style of a 1970s Target novelisation. Strictly limited edition of 40 copies, in aid of the Cystic Foundation Trust (plus an additional 10 copies reserved for the authors). Sold out almost instantly when promoted by the publisher via Facebook. The book is credited to "The Midnight Folk", a pseudonym which consists of Paul Magrs, Andrew Hickey, Stuart Douglas, Nick Campbell, James Gent, Ira Lightman, Ian Potter, Phil Craggs and Matthew Bright.
Cover blurb:
No cover information available yet.
Help wanted! Do you own this item? Please help make this site more complete by emailing me details of the back cover blurb. Thanks!