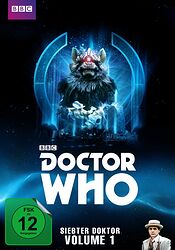 Note: German-exclusive 7th Doctor box set ("Siebter" means "Seventh"), containing all 4 stories from Season 24: Time and the Rani, Paradise Towers, Delta and the Bannermen and Dragonfire. Followed by Vol. 2 and Vol. 3.
Cover blurb:
DIE ERFOLGREICHE SCI-FI-KULTSERIE ÖFFNET DIE TORE ZU IHRER VERGANGENHEIT. DIE ABENTEUER DES SIEBTEN DOKTORS ERSTMALIG IN DEUTSCHLAND AUF DVD.
Sylvester McCoys (Radagast aus der "Hobbit"-Trilogie) erste Staffel in der Rolle des siebten Doktors ist ein schriller, bunter und witziger Trip durchs All. Dabei begegnet er einer gefährlichen Widersacherin: Die Rani. Diese hat sich mit einem Volk menschengroßer Fledermauswesen verbündet, um die Macht über das Universum zu übernehmen. Auf einem Eisplaneten muss er zudem gegen den skrupellosen Schatzjäger Sabalom Glitz und den Sklavenhalter Kane kämpfen, der mit einer einzigen Berührung seine Gegner zu Eis gefrieren lassen kann. Und trifft schließlich auf die junge Ausreißerin Ace, die den Doktor fortan auf seinen Reisen begleitet und sich als einer der beliebtesten Companion der Seriengeschichte entpuppen soll.
MIT ÜBER 5 STD. BONUSMATERIAL UND FANBOOKLET
VOLUME 1
DVD 1 Terror auf Lakertia (Teil 1-4) DVD 2: Der Fluch des Kroagnon (Teil 1-4)
DVD 3: Delta und die Bannermänner (Teil 1-3) DVD 4: Das Feuer des Drachen (Teil 1-3)
BONUS
Featurettes: Am Abgrund, Achterbahn, Horror im Hochhaus, Interviews, Continuity und noch viel mehr
Deleted & Extended Scenes
Bildergalerien
Audiokommentare
Infotext
WEITERE INFOS ZUM BONUSMATERIAL FINDET IHR IM BOOKLET