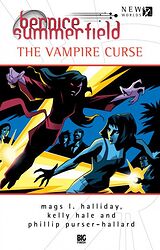 Note: Collection of three novellas in one book: The Badblood Diaries by Mags L. Halliday, Possum Kingdom by Kelly Hale and Predating the Predators by Philip Purser-Hallard.
Cover blurb:
In the course of a career spent digging up ancient things, Professor Bernice Summerfield has had more than one brush with the oldest and most widely-dispersed race of undead in the universe — vampires. Is she cursed? Or does everybody have to put up with this?
In these three stories, a young Benny files a column for a local news outlet whilst trying to stop an ancient curse escaping from her expedition; later in her life, Bernice joins a galactic tour of vampire history in order to investigate sinister happenings; and an aged Bernice Summerfield is forced to confront the equally bloody past of a fellow attendee at the predictably ill-fated First Interdisciplinary Conference on Vampirology.