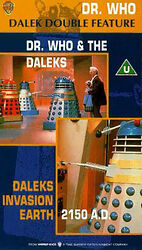 Edition:
UK (VHS)
When:
February 1993

Publisher:
Warner Home Video
Format:
1 x VHS PAL
Owned:
Buy:
Cover blurb:
For the first time on one video, two full-length feature movies from that most popular time and space adventurer, Dr. Who, starring the quintessential English actor, Peter Cushing.
These first ever big-screen adventures, filmed in 1965 and 1966, are based on the BBC television series which immediately developed into essential cult viewing.
Dr. Who & The Daleks
Join Dr. Who as he is transported by the TARDIS through time and space to the future planet Skaro, which has been devastated by radiation fall-out. There the Timelord battles the mutated alien Daleks who threaten to exterminate the peace-loving Thals by detonating a neutron bomb.
Daleks Invasion Earth 2150 A.D.
Dr. Who is transported by the TARDIS to a desolated future Earth under cosmic attack by the vengeful Daleks. Whole continents have been wiped out and humans have been turned into Robomen — living dead slaves! Only the underground resistance movement stands in the way of total Dalek control and extermination...