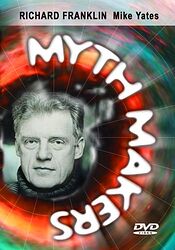 Note: Previously released on video, and subsequently re-released on DVD as part of The Doctors: The Jon Pertwee Years.
Cover blurb:
"I loved playing Mike Yates, but there were times when I felt the character could go no further."
During the early 1970's the United Nations Intelligence Taskforce (UNIT) featured heavily in DOCTOR WHO. CAPTAIN MIKE YATES joined the "three man army" during TERROR OF THE AUTONS and was a regular cast member for the rest of the JON PERTWEE era.
RICHARD FRANKLIN's portrayal of the young and idealistic army officer was an instant success with viewers and eventually led to MIKE YATES playing a pivotal role in both INVASION OF THE DINOSAURS and PLANET OF THE SPIDERS.
This MYTH MAKERS consists of two interviews with RICHARD, the first shot on location at his former Yorkshire home in 1989 and the second in a video studio in 1996. Mind you, NICHOLAS BRIGGS did have to persuade RICHARD to participate...
SPECIAL FEATURES
Introduction, Biography and Behind-the-Scenes Footage.