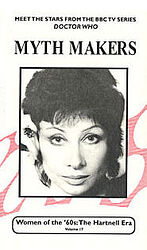 Edition:
US (VHS)
Title:
Myth Makers Vol. 17: Women of the '60s: The Hartnell Era
Released:
January 1992

Publisher:
DHI Home Video
Format:
1 x VHS NTSC
Owned:
Buy:

| | | |
| --- | --- | --- |
| | | (Not currently available) |

| | | |
| --- | --- | --- |
| | | (Not currently available) |
Note: This was the last of 17 Myth Makers videos released in the US, which confusingly followed a different numbering scheme to the original British releases. To add further confusion, the Carole Ann Ford interview had previously been released with the Debbie Watling & Wendy Padbury interviews on the similarly-titled Women of the '60s — but this was a different re-release, which incorporated the Jackie Lane interview instead. Preceded by Volume 16: Sophie Aldred.
Cover blurb:
Before Ace, Mel, Sarah Jane or Jo Grant, there was Susan Foreman. As the Doctor's grand-daughter, and first companion, Carole Ann Ford was present as history was made. Find out first hand what it was like to travel in the TARDIS with the Doctor during this nostalgic journey.
Then meet Jackie Lane, known among Doctor Who fans as Dorothea "Dodo" Chaplet, a young orphan whom the Doctor inadvertently carries off in the TARDIS. Now head of the voice-over department of a London acting agency, Jackie reflects on her early involvement in Doctor Who.