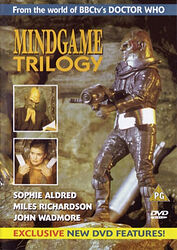 Note: Region 2 + 4 DVD. A Sontaran and a Draconian appear in this unauthorised Doctor Who spin-off drama, originally released on video. Sequel to Mindgame. Both stories were subsequently re-released together as Mindgame Saga.
Cover blurb:
3 stories on one cosmic DVD!
BATTLEFIELD by Terrance Dicks
Field-Major Sarg is in trouble. Trapped, wounded and alone on a battle-scarred planet, he is forced to accept he may die. But at least it will be a glorious death — or so he hopes...
PRISONER 451 by Miles Richardson
To be or not to be, that is the question! On trial for subversion, he faces the ultimate penalty. If only she knew the trouble she'd caused...
SCOUT SHIP by Roger Stevens
A dying ship drifting in space. A pilot faced with certain death. Time may be relative... but it still runs out!
Plus!
The Making of Mindgame Trilogy
SPECIAL FEATURES
'Making Of' Documentary and Photo Gallery