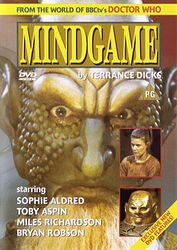 Note: Region 2+4 DVD. A Sontaran and a Draconian appear in this unauthorised Doctor Who spin-off drama, originally released on video. This DVD also includes The Making Of Mindgame documentary, out-takes and deleted scenes. Followed by a sequel: Mindgame Trilogy. Both stories were subsequently re-released together as Mindgame Saga.
Cover blurb:
ONE HUMAN, ONE DRACONIAN, ONE SONTARAN...
TRAPPED IN A PRISON CELL...
Who kidnapped them and for what sinister reason?
And who will survive when they are forced to fight for their lives?
In this tense drama, Sophie Aldred (Ace in DOCTOR WHO) stars alongside Miles Richardson (Downtime) and Toby Aspin (Shakedown) as two of DOCTOR WHO's favourite monsters finally meet.
The Sontarans appeared in four DOCTOR WHO stories between 1973 and 1985 plus the 1994 spin-off SHAKEDOWN (RTP0145). The Draconians appeared in the 1973 DOCTOR WHO story FRONTIER IN SPACE.
SPECIAL FEATURES
'Making Of' Documentary and Photo Gallery