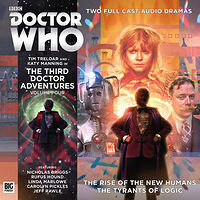 | | | |
| --- | --- | --- |
| | | |
| | Reviews for The Third Doctor Adventures: Volume Four: | |
| | | |
There is 1 review so far. To add a review of your own for this item, visit the voting page.
| | | |
| --- | --- | --- |
| | | |
| | Superb, the best set yet! | |
| | | |
By:
Matthew David Rabjohns, Bridgend, United Kingdom
Date:
Saturday 14 April 2018
Rating:
10
The Rise of the New Humans was my first taste of hearing how brilliant Rufus Hound is as the Meddling Monk. I was always of the notion that whilst new actors may be good, they wouldn't capture Peter Butterworth's comical aspect of the character that made him such a success in the role. But I am right to admit that indeed Rufus does deliver. His Monk is incredibly enjoyable as the Monk. He brings to his incarnation a brilliant sense of fun and brilliance that is a fine tribute to Peter. He is superb and I cant wait to hear more from him as the Monk!

Tim Treloar again is superbly impressive as the Third Doctor. Here I think he has done his finest Jon impersonating yet, really one does feel like he could be the dashing third Doctor back with us again! And hes terrifically aided by the stalwart brilliant Katy Manning as Jo. Perhaps maybe an only small sadness is that none of these brilliant Big Finish sets will be able to have the Brigadier or the Roger Delgado Master in them. Its a great shame but the story of the Rise of the New Humans at least mentions them both and that's an awesome respectful note to such great and well loved characters. And The Rise of the New Humans is very fast paced actually, and has some great action and with the Monk, some great great humour indeed.

But it is the Tyrants of Logic that I have to confess is the one story I was really looking forward to hearing! Marc Platt previously brilliantly penned the cyber epics The Silver Turk and Spare Parts, and both are rightfully acclaimed by many, and me also! And yet again for the first time we are treated to a complete third Doctor story with the Mondasians! Even just the cover art of this story is ruddy amazing! And the story itself is even better! It is a brilliant, emotional and very very enjoyable story indeed. I love the fact that it has the return of the head gunned cybermen, loved that idea back in the 70s and love it still now. I love also how Marc really as always makes you truly feel for the characters in his plays. He really gives them an incredible depth of character that not many modern writers can attest to achieving. And he also uses the Cybermen well. And we have a new Cyber Leveller to add to the pantheon of cyber menaces the Doctor has had to square off against!

But the best thing I love about this story is its truly huge ending. It all culminates in frankly one of the best Doctor Who climaxes ever. And its great to see how much Jo Grant's character is used way more intensely than she ever could have been in the classic series. This is perhaps Jo's finest moment as the companion of the Third Doctor. Tim does Jon proud, really impressing as the Third Doctor and giving us fans what we've wanted for a long long time. Id like to think Jon would be proud of Tim's efforts. The Cybermen have long been my favourite villain. And Marc does splendidly at taking us to the heart of all that makes the beasts so monstrous. The Tyrants of Logic is yet another superb Big Finish resounding success indeed. These Third Doctor sets just get better and better with every release. But The Tyrants of Logic will be immensely hard to surpass in my opinion. A classy box set that is heartily recommended indeed!