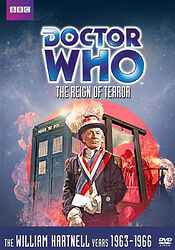 | | | |
| --- | --- | --- |
| | | |
| | Reviews for The Reign of Terror | |
| | | |
There are 2 reviews so far. To add a review of your own for this item, visit the voting page.
| | | |
| --- | --- | --- |
| | | |
| | Definitely underrated Historical | |
| | | |
By:
Matthew David Rabjohns, Bridgend, United Kingdom
Date:
Tuesday 29 January 2013
Rating:
10
These are rare: stories with just the right balance of humour and seriousness. This story is Dennis Spooner's first and brilliant, script for Doctor Who which brought season one to close on a real high point. This is a six parter that flies along at a really good pace, and all the main cast deliver excellent performances to make this story a particular delight.

The first to really impress is William Hartnell, giving the great mix of grump and concern that really is his incarnation of the time lord to a tee. I can never forget is scene with that tax man, it cracks me up every time I hear or watch it. But as ive already said, the humour doesnt over take the drama. And this is also another great show of William Russell's and Jacqueline Hill's great chemistry on screen. And we have some terrific scenes of Barbara's stance on histoy.

What also impresses with this story is the excellent design, which for the time looks quite amazing. One really does feel that this is in france and true to the point.

And then we have the frankly excellent animated episodes, these are so very impressive and delightful so you can watch the story whole again. And this time I think the detail is even finer than in the episodes of the Invasion. The animation teams certainly know their business. This all comes over very well and the restorationas ever is of a very high standard indeed! Classy Doctor Who.
By:
Trevor Smith, Nottingham, United Kingdom
Date:
Thursday 23 May 2013
Rating:
8
And so one the earliest Dr Who adventures is now, thanks to two animated episodes.
An interesting at times exciting story that sags somewhat, ironically during the animated episodes.
The animated episodes are for me a step up from the two Invasion animated episodes though the cutting from scene to scene is at times a bit distracting.
The extras are a bit thin apart from an interesting making of documentary.
Regardless of any flaws this story should be in the collection of all Who fans.