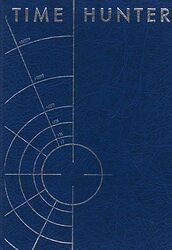 In 2003, Telos Publishing announced a new line of Doctor Who spin-off novellas called Time Hunter. Like Telos's previous range of Doctor Who novellas, they were between 20,000-40,000 words in length: longer than a short story, but shorter than a novel.

Telos's stated aim for the series was to be "Part mystery, part detective story, part dark fantasy, part science fiction". The Doctor Who connection comes from the fact that they star time-travelling characters Honoré Lechasseur and Emily Blandish, who both originated in the 2003 Doctor Who novella The Cabinet of Light by Daniel O'Mahony.

Each novella was available in a standard paperback edition & a limited-edition hardback. 11 novellas were published over the course of 4 years before Telos suspended the range in 2007 due to lower-than-expected sales.

From 2008-2012, British company Fantom Films released a matching range of audio readings covering all 11 Time Hunter novellas, plus a "Doctor-free" adaptation of The Cabinet of Light. These audios are listed on a separate page.

| | | |
| --- | --- | --- |
| | | |
Title:
By:
Edition:
Date:
ISBN:
Owned:
Rating:
Reviews:
The Winning Side
Lance Parkin
UK paperback
Nov 2003
1-903889-35-9
6
None
UK hardback
Dec 2003
1-903889-36-7
The Tunnel at the End of the Light
Stefan Petrucha
UK paperback
Mar 2004
1-903889-37-5
5.5
None
UK hardback
Mar 2004
1-903889-38-3
The Clockwork Woman
Claire Bott
UK paperback
Jun 2004
1-903889-39-1
3.3
None
UK hardback
Aug 2004
1-903889-40-5
Kitsune
John Paul Catton
UK paperback
Oct 2004
1-903889-41-3
4.3
None
UK hardback
Nov 2004
1-903889-42-1
The Severed Man
George Mann
UK paperback
Dec 2004
1-903889-43-X
6.5
None
UK hardback
Feb 2005
1-903889-44-8
Echoes
Iain McLaughlin & Claire Bartlett
UK paperback
Apr 2005
1-903889-45-6
7
None
UK hardback
May 2005
1-903889-46-4
Peculiar Lives
Philip Purser-Hallard
UK paperback
Jun 2005
1-903889-47-2
6.8
None
UK hardback
Aug 2005
1-903889-48-0
Deus Le Volt
Jon de Burgh Miller
UK paperback
Dec 2005
1-903889-49-9
4
None
UK hardback
Jan 2006
1-903889-97-9
The Albino's Dancer
Dale Smith
UK paperback
Jun 2006
1-84583-100-4
7
None
UK hardback
Jun 2006
1-84583-101-2
The Sideways Door
R. J. Carter & Troy Riser
UK paperback
Jul 2006
1-84583-102-0
5.7
None
UK hardback
Aug 2006
1-84583-103-9
Child of Time
George Mann & David J. Howe
UK paperback
Aug 2007
978-1-84583-104-2
None
None
UK hardback
Dec 2007
978-1-84583-105-9



Active session = no / Cookie = no