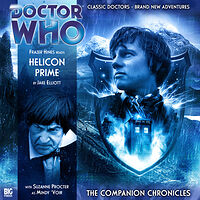 One of the defining characteristics of Big Finish's popular New Audio Adventure CD releases is that they feature the Fifth to Eighth Doctors only. This is mainly due to the First, Second and Third Doctors no longer being with us, plus Big Finish being unsuccessful (until recently) in persuading Tom Baker to participate. Also note that Big Finish are not licenced to produce new series audios — so the Ninth, Tenth and Eleventh Doctors are off-limits too.
To rectify this gap, in early 2007, Big Finish released a set of 4 audios in a new mini-series called "The Companion Chronicles", one for each of the first 4 Doctors. Unlike the rest of Big Finish's output, instead of being full-cast audio dramas, these are more like audio readings, since they involve just one actor narrating the story — in each case, the reading is "performed" by one of the Doctor's companions.
This proved to be successful, so further releases followed, and in July 2008 Big Finish announced that this was to become a regular monthly series, with two slight changes: The range was expanded to include companions from later Doctors as well... plus one extra actor was added to the cast for each audio, to give the audio more "depth" and reduce the strain of the companion having to carry the entire drama by themselves.
After 8 successful "seasons", Big Finish announced that the Companion Chronicles are to end in June 2014.

| | | |
| --- | --- | --- |
| | | |
Title:
Starring:
By:
Date:
ISBN:
Owned:
Rating:
Reviews:
Frostfire
Maureen O'Brien
Marc Platt
Feb 2007
978-1-84435-263-0
7.7
Fear of the Daleks
Wendy Padbury
Patrick Chapman
Feb 2007
978-1-84435-264-7
6.3
The Blue Tooth
Caroline John
Nigel Fairs
Feb 2007
978-1-84435-265-4
8
The Beautiful People
Lalla Ward
Jonathan Morris
Feb 2007
978-1-84435-266-1
6.3
Mother Russia
Peter Purves
Marc Platt
Oct 2007
978-1-84435-290-6
6.9
Helicon Prime
Frazer Hines
Jake Elliott
Nov 2007
978-1-84435-291-3
6.4
Old Soldiers
Nicholas Courtney
James Swallow
Dec 2007
978-1-84435-292-0
8.4
The Catalyst
Louise Jameson
Nigel Fairs
Jan 2008
978-1-84435-293-7
8.3
Here There Be Monsters
Carole Ann Ford
Andy Lane
Jul 2008
978-1-84435-350-7
6.9
The Great Space Elevator
Deborah Watling
Jonathan Morris
Aug 2008
978-1-84435-351-4
7.1
The Doll of Death
Katy Manning
Marc Platt
Sep 2008
978-1-84435-352-1
7.3
Empathy Games
Louise Jameson
Nigel Fairs
Oct 2008
978-1-84435-353-8
7.6
Home Truths
Jean Marsh
Simon Guerrier
Nov 2008
978-1-84435-354-5
8.9
The Darkening Eye
Sarah Sutton
Stewart Sheargold
Dec 2008
978-1-84435-355-2
7.6
None
The Transit of Venus
William Russell
Jacqueline Rayner
Jan 2009
978-1-84435-356-9
7
None
The Key 2 Time: The Prisoner's Dilemma
Sophie Aldred & Laura Doddington
Simon Guerrier
Jan 2009
978-1-84435-357-6
7.2
Resistance
Anneke Wills
Steve Lyons
Mar 2009
978-1-84435-378-1
7.3
The Magician's Oath
Richard Franklin
Scott Handcock
Apr 2009
978-1-84435-379-8
7
The Mahogany Murderers
Christopher Benjamin & Trevor Baxter
Andy Lane
May 2009
978-1-84435-380-4
8.9
The Stealers from Saiph
Mary Tamm
Nigel Robinson
Jun 2009
978-1-84435-381-1
6.2
None
The Drowned World
Jean Marsh
Simon Guerrier
Jul 2009
978-1-84435-424-5
7.1
None
The Glorious Revolution
Frazer Hines
Jonathan Morris
Aug 2009
978-1-84435-425-2
7.9
The Prisoner of Peladon
David Troughton
Cavan Scott & Mark Wright
Sep 2009
978-1-84435-426-9
8.1
The Pyralis Effect
Lalla Ward
George Mann
Oct 2009
978-1-84435-427-6
8.2
None
Ringpullworld
Mark Strickson
Paul Magrs
Nov 2009
978-1-84435-428-3
7.9
None
Bernice Summerfield and the Criminal Code
Lisa Bowerman
Eddie Robson
Jan 2010
978-1-84435-462-7
8.1
None
The Suffering
Peter Purves & Maureen O'Brien
Jacqueline Rayner
Feb 2010
978-1-84435-463-4
7.8
None
The Emperor of Eternity
Deborah Watling & Frazer Hines
Nigel Robinson
Mar 2010
978-1-84435-464-1
6.9
Shadow of the Past
Caroline John
Simon Guerrier
Apr 2010
978-1-84435-465-8
8.4
The Time Vampire
Louise Jameson & John Leeson
Nigel Fairs
May 2010
978-1-84435-466-5
7.7
Night's Black Agents
Frazer Hines
Marty Ross
May 2010
978-1-84435-467-2
4.8
None
Solitaire
India Fisher
John Dorney
Jun 2010
978-1-84435-468-9
8.1
The Guardian Of The Solar System
Jean Marsh
Simon Guerrier
Jul 2010
978-1-84435-483-2
8.6
Echoes of Grey
Wendy Padbury
John Dorney
Aug 2010
978-1-84435-484-9
7
Find and Replace
Katy Manning
Paul Magrs
Sep 2010
978-1-84435-485-6
7.6
The Invasion Of E-Space
Lalla Ward
Andrew Smith
Oct 2010
978-1-84435-486-3
6
None
A Town Called Fortune
Maggie Stables
Paul Sutton
Nov 2010
978-1-84435-487-0
7
None
Quinnis
Carole Ann Ford
Marc Platt
Dec 2010
978-1-84435-504-4
6.3
None
Peri and the Piscon Paradox
Nicola Bryant & Colin Baker
Nev Fountain
Jan 2011
978-1-84435-505-1
8.7
None
The Perpetual Bond
Peter Purves
Simon Guerrier
Feb 2011
978-1-84435-506-8
7.2
The Forbidden Time
Anneke Wills & Frazer Hines
David Lock
Mar 2011
978-1-84435-507-5
7.7
The Sentinels of the New Dawn
Caroline John
Paul Finch
Apr 2011
978-1-84435-508-2
7.4
Ferril's Folly
Mary Tamm
Peter Anghelides
May 2011
978-1-84435-509-9
6
The Cold Equations
Peter Purves
Simon Guerrier
Jun 2011
978-1-84435-510-5
8.3
Tales from the Vault
Daphne Ashbrook, Yee Jee Tso, Katy Manning & Wendy Padbury
Jonathan Morris
Jul 2011
978-1-84435-576-1
7.8
The Rocket Men
William Russell
John Dorney
Aug 2011
978-1-84435-581-5
8.7
The Companion Chronicles: The Specials
Anneke Wills, Nicholas Courtney, Katy Manning & Mark Strickson
Marc Platt, Jonathan Morris & Mark Morris
Aug 2011
978-1-84435-551-8
None
The Memory Cheats
Wendy Padbury
Simon Guerrier
Sep 2011
978-1-84435-582-2
7.8
The Many Deaths of Jo Grant
Katy Manning
Cavan Scott & Mark Wright
Oct 2011
978-1-84435-583-9
8
The First Wave
Peter Purves
Simon Guerrier
Nov 2011
978-1-84435-584-6
8
Beyond the Ultimate Adventure
Colin Baker
Terrance Dicks
Dec 2011
978-1-84435-585-3
5.6
The Anachronauts
Jean Marsh & Peter Purves
Simon Guerrier
Jan 2012
978-1-84435-611-9
8
None
The Selachian Gambit
Frazer Hines & Anneke Wills
Steve Lyons
Feb 2012
978-1-84435-619-5
7.9
None
Binary
Caroline John
Eddie Robson
Mar 2012
978-1-84435-620-1
6.8
The Wanderer
William Russell
Richard Dinnick
Apr 2012
978-1-84435-621-8
7.1
The Jigsaw War
Frazer Hines
Eddie Robson
May 2012
978-1-84435-622-5
8.3
The Rings of Ikiria 3rd
Richard Franklin
Richard Dinnick
Jun 2012
978-1-84435-623-2
6.8
The Time Museum
William Russell
James Goss
Jul 2012
978-1-78178-018-3
7
None
The Uncertainty Principle
Wendy Padbury
Simon Guerrier
Aug 2012
978-1-84435-947-9
6.7
None
Project: Nirvana
Sylvester McCoy
Cavan Scott & Mark Wright
Sep 2012
978-1-84435-948-6
8
None
The Last Post
Caroline John
James Goss
Oct 2012
978-1-84435-949-3
9.2
None
Return of the Rocket Men
Peter Purves
Matt Fitton
Nov 2012
978-1-84435-950-9
9.2
None
The Child
Louise Jameson
Nigel Fairs
Dec 2012
978-1-84435-951-6
None
None
The Flames of Cadiz
William Russell & Carole Ann Ford
Marc Platt
Jan 2013
978-1-78178-061-9
8
House of Cards
Anneke Wills & Frazer Hines
Steve Lyons
Feb 2013
978-1-78178-063-3
6.7
None
The Scorchies
Katy Manning
James Goss
Mar 2013
978-1-78178-064-0
6.6
None
The Library of Alexandria
William Russell
Simon Guerrier
Apr 2013
978-1-78178-084-8
8
None
The Apocalypse Mirror
Frazer Hines & Wendy Padbury
Eddie Robson
May 2013
978-1-78178-066-4
7
The Council of War
John Levene
Simon Barnard & Paul Morris
Jun 2013
978-1-78178-067-1
7.2
Mastermind
Daphne Ashbrook, Yee Jee Tso & Geoffrey Beevers
Jonathan Morris
Jul 2013
978-1-78178-083-1
8.3
None
The Alchemists
Carole Ann Ford
Ian Potter
Aug 2013
978-1-84435-946-2
8.2
None
Upstairs
Maureen O'Brien & Peter Purves
Mat Coward
Sep 2013
978-1-78178-085-5
6.8
None
Ghost in the Machine
Katy Manning
Jonathan Morris
Oct 2013
978-1-78178-086-2
8.7
None
The Beginning
Carole Ann Ford & Terry Molloy
Marc Platt
Nov 2013
978-1-78178-087-9
7
None
The Dying Light
Frazer Hines & Terry Molloy
Nick Wallace
Dec 2013
978-1-78178-088-6
None
None
Luna Romana
Lalla Ward & Terry Molloy
Matt Fitton
Jan 2014
978-1-78178-089-3
None
None
The Sleeping City
William Russell
Ian Potter
Feb 2014
978-1-78178-090-9
9
None
Starborn
Maureen O'Brien
Jacqueline Rayner
Mar 2014
978-1-78178-091-6
None
None
The War To End All Wars
Peter Purves
Simon Guerrier
Apr 2014
978-1-78178-092-3
None
None
The Elixir of Doom
Katy Manning
Paul Magrs
May 2014
978-1-78178-093-0
None
None
Second Chances
Wendy Padbury
John Dorney
Jun 2014
978-1-78178-094-7
None
None
The First Doctor: Volume One
Carole Ann Ford, Maureen O'Brien & Peter Purves
Martin Day, Ian Potter & Simon Guerrier
Jun 2015
978-1-78178-435-8
None
None
The Second Doctor: Volume One
Frazer Hines, Anneke Wills, Deborah Watling & Wendy Padbury
John Pritchard, Ian Atkins & Rob Nisbet
Jun 2016
978-1-78575-014-4
None
The First Doctor: Volume Two
Maureen O'Brien
John Pritchard
Jun 2017
978-1-78703-006-0



Active session = no / Cookie = no