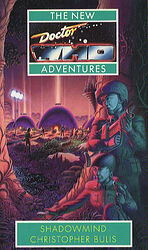 The first New Adventures novels were published by Virgin Books in 1991. Featuring the Seventh Doctor, they carried on the Time Lord's story from the point where the classic TV series ended in 1989, and were revolutionary at the time as being the first ongoing series of original Doctor Who novels (i.e. not based on TV episodes) — a template which has since become the norm for Who fiction.
From the beginning, the New Adventures also consciously strove to break the mould of "typical" Doctor Who stories, and while several established villains appeared (Cybermen, Ice Warriors, the Master, etc.), the overall tone of the NAs was more edgy and provocative than previous Who novelisations. This led to controversy in some quarters, but most of the time this fresh approach was well-received by fans and the range overall was very successful.
However, in May 1997, Virgin's licence to publish Doctor Who fiction expired. Thereafter, the NAs became Doctor-less and instead followed the exploits of Bernice Summerfield (one of the Doctor's companions in earlier NAs). This continued until December 1999, when declining sales led Virgin to halt the series after a total of 84 novels. However, Bernice lives on in the continuing range of Bernice Summerfield novels, published by Big Finish. Also, some NAs have been dramatised by Big Finish as part of their series of Bernice Summerfield audio adventures.