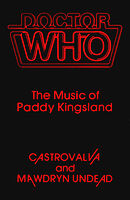 Starring:
Unknown
Rating:
8.3 (3 votes) Vote here
Review:
None yet Add a review
Released:
October 1990

Publisher:
Doctor Who Appreciation Society
Format:
1 x cassette
Owned:
Buy:
Note: Catalogue number: JPD 1. Contains a selection of incidental music from Castrovalva and Mawdryn Undead. Oddly, the title "The Corridor of Eternity" only appears on the cassette spine and inlay, but not on the front cover.
Cover blurb:
None.
Inner liner notes read as follows:
TRACK LISTING
"SIDE 1 — CASTROVALVA (5Z)"
1M1, 1M2, 1M3, 1M5, 1M7, 2M4, 2M5, 2M11, 3M7, 4M1, 4M5, 4M8
"SIZE 2 — MAWDRYN UNDEAD (6F)"
1M1, 1M2, 1M3, 1M6, 1M8, 1M9, 1M11, 1M12, 1M12, 1M13, 1M15, 2M3, 2M6, 2M7, 2M8, 2M11, 2M14, 3M7, 3M8, 3M11, 3M16, 4M11, 4M12, 4M13, 4M20
NOTES
The track listing is as used in the original programmes. Eg: 2M6 is the sixth music cue in episode two.
THE CORRIDOR OF ETERNITY
In October 1981 I was in the process of leaving the BBC. After about ten years at the Radiophonic Workshop I was about to strike out as a freelance writer of music, (electronic or otherwise), for anyone prepared to pay for my services. I had found the run-down plastic button factory which was to become my studio, signed the lease for more rent than I could afford, handed in my notice, and assured my wife and three children that everything would be OK.
Only one thing stood in the way of a pleasant three months of shifting piles of sand, wiring, negotiating with the local council and wondering where my first job would come from: "Doctor Who - 5Z", later known as "Castrovalva". Due to industrial action, or some kind of BBC time warp, the production had been delayed, and I had to return to the final dubbing sessions as a non-staff member, usually disguised as a workman. I must say that it was easier getting past the security guards and into the television centre that way than it was in the days when I was disguised as a composer.
"Castrovalva" was my last job for the BBC Radiophonic Workshop, and it has a definite "Hitch-Hiker's Guide" sound about it. The music has not been re-recorded for this tape, the music cues have been transferred from the original recording. Some time later the "Doctor Who" production office decided to let me have a go at another adventure, "Mawdryn Undead", 6F. Once again, the original music appears on this tape, uncluttered by unnecessary dialogue and sound effects.
Of course, the sound track you hear on "Doctor Who" is a blend of various sources: in those days there would be a viewing of the edited videotape of an episode by the director, sound effects specialist and composer, where it would be decided where music and "FX" were required. The two creative artists, (the director having moved on to episode 139 of "Howards Way" or something). would then spend about four days making up audio tapes to fit the pictures.
For an electronic music writer "Doctor Who" is the nearest thing there is to playing "live". The deadline looms, there is nothing for it but to get on with it, and acknowledge that the first idea is usually the best one. If not the only one. Even so, at the time, four days of intensive labour seemed like an eternity when at the dubbing session, (where the final sound track is assembled), somebody says "Lets play this sequence on effects..." "WHAT!", screams the slightly overwrought composer, "I spent a whole day putting that together..."
The same thing happens in reverse to the sound effects man on the following sequence, only this time the director joins in, shouting "I don't care as long as I can hear the dialogue!" In the middle of all this the poor dubbing mixer is trying to keep everybody happy, or at least quiet, so that he can hear what he is donig.
One day you may be able to buy a copy of the sound effects and dialogue of "Doctor Who - 5Z" and 6F, without the rather intrusive music. Until then here is the music as you've never heard it before!
PADDY KINGSLAND
OCTOBER 1990