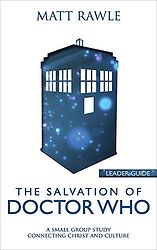 Edition:
US (leader guide paperback)
Released:
September 2015

Publisher:
Abingdon Press
ISBN:
978-1-5018-0382-6
Format:
paperback
Owned:
Buy:

New:
CDN$ 10.98
Used:
CDN$ 10.58
Note: This slimmer 64-page "leader guide" book is intended to be used in conjunction with the "main" group study book listed above.
Cover blurb:
Connecting Christ and Culture
"Matt Rawle provides a fascinating explanation of ways in which the story of Jesus is echoed in the character of Doctor Who. Full of the enthusiasm—and knowledge—of a fan, this book is written with compassion and gentle wisdom, encouraging us to go deeper into the best story of all."
—Madeleine Davies, Deputy News Editor, Church Times, London
"Always clever and insightful, Matt Rawle explores the madcap adventures of Doctor Who and helps us thereby to arrive in unexpected places in our life with God. Think of this book as a blue police box, and join the Doctor in an unforgettable journey."
—James Howell, Senior Pastor, Myers Park UMC, Charlotte NC
"While the world keeps trying to stuff God into smaller and smaller boxes, Matt Rawle shows that God owns the culture, not the other way 'round. Through this series, we can see the startling spiritual truths in even the most secular of places."
—Paul Asay, author of Burning Bush 2.0 and God on the Streets of Gotham
"Matt Rawle shares his remarkable encounters with Christ in some of our culture's greatest stories. Thank you, Matt!"
—Toby Hill of the Christian band Soulfruit
The Pop in Culture series is a collection of studies by pastor and author Matt Rawle that uses works of pop culture—such as books, movies, or television—as a way to examine questions and issues of the Christian faith and open our eyes to the spiritual truths that are all around us. The Salvation of Doctor Who is a four-week study that draws on the long-running TV show and cult favorite Doctor Who to chart the intersection of faith and science. This leader guide contains leader helps plus four session plan outlines, each including prayers, activities, discussion questions, and additional options for study.
Also available: Book, DVD, Worship Resources Flash Drive
MATT RAWLE is Lead Pastor at The Well United Methodist Church in Ponchatoula, Louisiana. Matt is an international speaker who loves to tell an old story in a new way, especially at the intersection of pop culture and the church. He is the author of the Pop in Culture series, which includes The Faith of a Mockingbird, The Salvation of Doctor Who, and Hollywood Jesus. For more information, visit www.mattrawle.com.