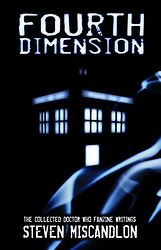 Edition:
UK (paperback)
Released:
May 2013

Publisher:
Morrigan Publishing
ISBN:
None
Format:
paperback
Owned:
Buy:


Cover blurb:
Between 1992 and 1996, Steven Miscandlon had dozens of short stories, articles and illustrations published in a variety of Doctor Who fan magazines. FOURTH DIMENSION collects those writings into a single volume, providing a true insight into the fan scene of the early 90s. Included in this collection are:
Twelve short stories featuring five of the original seven Doctors. Whether you want a tale of the First Doctor leaving Gallifrey at the start of his travels, the Second revisiting Steven Taylor on the planet of The Savages, or the Seventh Doctor facing an uncomfortable reminder of his own mortality, there should be something here for everyone.
"The Gallifrey Incursion", a previously unpublished novelette-length story. The Seventh Doctor, Ace and Benny must save Gallifrey in its darkest hour, from an enemy utterly without mercy; one that has access to technology far in advance of the Time Lords' own.
Reprints of twenty reviews of Doctor Who novels and other spin-off media, including a number of Virgin Publishing's New Adventures novels, and the 1993 radio drama The Paradise of Death.
Reviews of eleven televised Doctor Who stories from throughout the show's history.
From its cancellation in 1989 until the broadcast of the Paul McGann TV movie in 1996, Doctor Who was absent from the small screen. This collection demonstrates how, during those wilderness years, fans of the series stepped into the void and helped keep the dream alive.