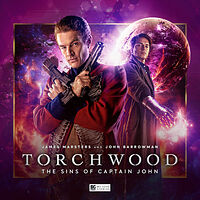 Note: Exclusively available from the Big Finish website until March 31st.
Cover blurb:
From zombies in Restoration London to Hell gatecrashing a funeral, rogue Time Agent Captain John Hart leads the universe to rack and ruin in four new adventures.
THE RESTORED
ESCAPE FROM NEBAZZ
PEACH BLOSSOM HEIGHTS
DARKER PURPOSES

Torchwood contains adult material and may not be suitable for younger listeners.