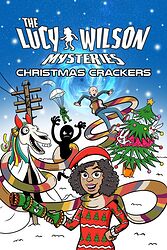 Note: Short story collection.
Cover blurb:
Ogmore-by-Sea seems to have gone back to its old sleepy way. But adventure never stops for Lucy Wilson and her best friend Hobo, not even at Christmas...
In the run up to the Christmas holidays, Lucy and Hobo help out at the school Christmas Fayre. But what's inside the Christmas crackers? Why are people going missing? How does everyone seem to be so unlucky? And who is the mysterious Crone?
A collection of five short stories set between Christmas, the New Year and beyond... This book is Christmas Crackers!
The Lucy Wilson Mysteries is a Lethbridge-Stewart spin-off adventure inspired by characters created for Doctor Who by Mervyn Haisman and Henry Lincoln.