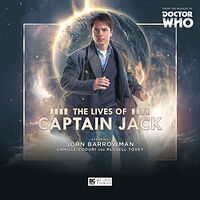 Note: Exclusively available from the Big Finish website until 31st Aug 2017. Contains Wednesdays For Beginners and One Enchanted Evening both by James Goss, and Month 25 and The Year After I Died, both by Guy Adams.
Cover blurb:
CAPTAIN JACK HARKNESS HAS LIVED SO MANY LIVES
HERE ARE JUST FOUR OF THEM
These adventures take us from the ruins of a Dalek-ravaged Earth, to a council estate stranded in another universe, from a crashing space station, to the mysterious offices of the Time Agency.