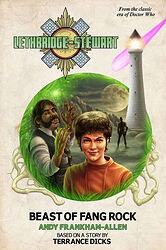 Note: Also available as an audio reading. As you can guess from the title, this is essentially a sequel to the classic Fourth Doctor TV story Horror of Fang Rock, hence the "based on a story by Terrance Dicks" credit on the front cover.
Cover blurb:
"There's always death on the rock when the Beast's about."
Fang Rock has always had a bad reputation. Since 1955 the lighthouse has been out of commission, shut down because of fire that gutted the entire tower. But now, finally updated and fully renovated, the island and lighthouse is once again about to be brought back into service.
Students have gathered on Fang Rock to celebrate the opening of the 'most haunted lighthouse of the British Isles', but they get more than they bargained for when the ghosts of long-dead men return, accompanied by a falling star.