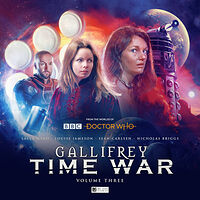 Note: Exclusively available from the Big Finish website until April 30th.
Cover blurb:
Romana and Narvin are exiles, driven from Gallifrey by Rassilon's regime and cut adrift amid the horrors of the Time War.
Their one remaining hope is that they can find their friend: Leela was also lost in the maelstrom of battle, but she is fighting to survive...

HOSTILES BY DAVID LLEWELLYN
NEVERNOR BY LOU MORGAN
MOTHER TONGUE BY HELEN GOLDWYN
UNITY BY DAVID LLEWELLYN