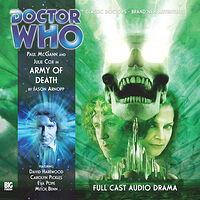 Starring:
Paul McGann
By:
Jason Arnopp
Rating:
5 (7 votes) Vote here
Review:
Standard Army of Death Stuff Read more (2 in total)
Released:
December 2011

Publisher:
Big Finish
ISBN:
978-1-84435-603-4
Format:
2 x CD
Owned:
Buy:

New:
CDN$ 19.49
Used:
CDN$ 21.87
Note: Big Finish subscribers whose subscription included this release also received a separate bonus CD: The Five Companions by Eddie Robson. This is a common practice for Big Finish every year (for example, the 2012 bonus was Night of the Stormcrow) but usually Big Finish then sell surplus copies of the bonus CD directly to members of the public the following year. For reasons unknown, they decided not to do this for The Five Companions and hence this release is not listed on this site (i.e. I only list items that have been on sale directly to the public).
Cover blurb:
The TARDIS brings the Doctor and Mary Shelley to the continent of Zelonia, on the frontier world Draxine — where, many moons ago, the twin citystates of Garrak and Stronghaven bore testament to mankinds colonial spirit.
That was before the sinister death cult of Garraks President Harmon took hold — and Garrak annihilated itself, utterly, in an apocalyptic explosion. Before the bones of Garraks dead came back to life, and its skeletal citizens began marching, marching, marching on Stronghaven itself.
But what do they want, this army of death? And can anything stop them? In search of answers, the Doctor and Mary must journey into the dead heart of a dead city to face a terrifying adversary, whose ambitions transcend the stuff of life itself.