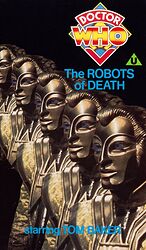 Edition:
UK (edited VHS)
Released:
April 1986

Publisher:
BBC Video
Format:
1 x VHS PAL
Owned:
Buy:
Note: Movie format. Released on VHS and Betamax. Two versions exist of the VHS release: the original 1986 edition, which had the catalogue no. BBCV 2030, while the second (BBCV 4108) followed in February 1988. The contents, cover blurb and cover design are identical to both releases.
Cover blurb:
The Doctor faces a horrific army of merciless machines in another exciting feature-length space adventure from the longest-running SF series in the world.
On a desolate planet rich in metal ores a huge sandminer crawls over the barren wastes scraping the surface for lucanol, one of the most valuable substances in the Universe. The skeleton crew are served by their robot staff; efficient, expendable and totally obedient. Until now.
One by one the human crew are brutally and mysteriously eliminated and suspicion shifts from the crew members themselves to the Doctor and Leela, who have accidentally landed on the planet. But, as the true enemy is revealed, the Doctor, Leela and the remains of the terrified crew find themselves prey to a horde of killer robots answerable only to an evil scientist determined to see them seize absolute power.
Originally transmitted 29 January - 19 February 1977