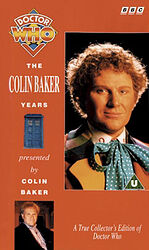 Edition:
UK (VHS)
Released:
March 1994

Publisher:
BBC Video
Format:
1 x VHS PAL
Owned:
Buy:

| | | |
| --- | --- | --- |
| | | (Request failed) |
Cover blurb:
"I am the Doctor whether you like it or not."
Following his first appearance as the Doctor in the Caves of Androzani on 16 March 1984, Colin Baker became the sixth actor to step into the role as Gallifrey's most famous son. Characterised by his dazzling attire and rather wry humour, this Doctor was to prove slightly inaccessible and rather unpredictable, cast perhaps more in the mode of William Hartnell's timelord. On this special video, Colin Baker himself recalls the Colin Baker Years, revealing some of his own favourite memories and clips from the period including...
His first ever rather "arch" appearance in the programme as Commander Maxil in the Arc of Infinity
the news announcement of his appointment to the role with his Breakfast Time and Blue Peter appearances
5 clips from The Twin Dilemma, his first full adventure as the Doctor
4 excerpts from Attack of the Cybermen including a glimpse of Tony [sic] "Davros" Molloy
clips from Vengeance of Varos, Mark of the Rani and The Two Doctors
the news announcement of the programme's 18 month rest period
2 excerpts from Timelash including Paul Darrow's appearance on the programme
footage from the Doctor Who exhibition in Blackpool in November 1985
3 clips from Trial of a Timelord
Colin recalling filming memories of a pudding-eating competition with Joan Sims and Tony Selby!
scenes from Mindwarp and Terror of the Vervoids, the latter introducing Bonnie Langford as the Doctor's new assistant
footage from Colin's appearance on Jim'll Fix It, his new series - The Stranger, plus the truth behind his sudden departure from the programme including that "faked" regeneration scene