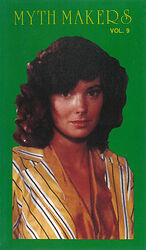 Edition:
US (1st VHS)
Title:
Myth Makers Vol. 9: Nicola Bryant & Michael Craze
Released:
December 1989 (Exact date unconfirmed)

Publisher:
Pleiades Home Entertainment
Format:
1 x VHS NTSC
Owned:
Buy:
Note: This was the ninth of 17 Myth Makers videos released in the US, which confusingly followed a different numbering scheme to the original British releases. To add further confusion, this was a double release, which also incorporated the Michael Craze interview. Preceded by Volume 8: Tom Baker and followed by Volume 10: Colin Baker.
Cover blurb:
As Peri, the first (and much maligned) American companion on 'DOCTOR WHO', lovely NICOLA BRYANT had to face everything from lovesick psychopaths to Cybermen and Sils [sic]. Now she has to face the greatest menace of all: Nicholas Briggs!
In the second Myth Makers, follow Nicholas Briggs as he accidentally transports himself to a deserted stretch of country road. Alone and weary, he makes his way to the local pub. Once there, he is served by none other than MICHAEL CRAZE, Ben from the early days of 'DOCTOR WHO'. Take the chill off and listen to stories about the early days of Doctor Who as MICHAEL CRAZE reveals his experiences!
It's something old and something new, in this special volume of Myth Makers.
Coming Soon: COLIN BAKER