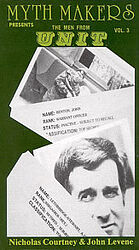 Edition:
US (VHS)
Title:
Myth Makers Vol. 3: The Men from UNIT
Released:
September 1988 (Exact date unconfirmed)

Publisher:
Pleiades Home Entertainment
Format:
1 x VHS NTSC
Owned:
Buy:

| | | |
| --- | --- | --- |
| | | (Not currently available) |
Note: This was the third of 17 Myth Makers videos released in the US, which confusingly followed a different numbering scheme to the original British releases. To add further confusion, this was a double release, which also incorporated the John Levene interview. Preceded by Volume 2: Ian Marter / John Leeson and followed by Volume 4: Jon Pertwee.
Cover blurb:
The Men from UNIT are back!
Since the Troughton era, UNIT has played an important part in the Doctor's fights against outside forces.
From Bret Vyon (the Hartnell era) to the Brigadier (the Troughton, Pertwee, Baker & Davison eras), Nicholas Courtney has appeared with more of the good Doctor's incarnations than any other actor. Nicholas Briggs accompanies Nick on a voyage through Doctor Who history, into The Rocky Horror Show and beyond. Shot entirely at the same locations used for the adventure 'Mawdryn Undead'.
Always at the Brigadier's side through alien attacks and time travelling criminals, Sgt. Benton as played by John Levene, has always been the best of UNIT's fighting men. John answers many important questions about his character, such as "Why is Benton selling used cars?"
A very funny and informative Myth Makers indeed!
Don't miss the all new UNIT adventure, 'War Time' starring John Levene and Michael Wisher. Available exclusively from Pleiades Home Entertainment