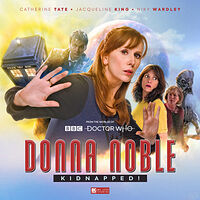 Cover blurb:
Donna Noble has come home. But she's about to be whisked away by aliens — and they're not as friendly as the Doctor!
After the trauma of the Library, Donna wants a break, to see old friends and family, to remind herself of normality.
Only Donna's new normal involves trips through time and space and visiting alien worlds. So when she and BFF Nat start looking into strange abductions, they are dragged into a whole new universe of trouble...