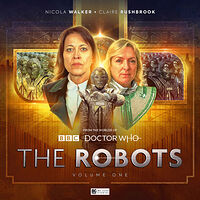 Note: First of a new series of audios set on the world of Kaldor as featured in the classic TV story The Robots of Death and the Kaldor City audio series — though it doesn't feature any characters from either: instead the main character is Liv Chenka, who originally appeared alongside the Seventh Doctor in the Kaldor-set audio Robophobia, then went on to be a recurring companion of the Eighth Doctor in the Dark Eyes, Ravenous and Doom Coalition audio series. The other main character alongside Liv is her sister Tula, who previously appeared in Escape from Kaldor, one of the stories in Ravenous 2.
Cover blurb:
During the events of Doctor Who — Ravenous 2, Liv Chenka left the Doctor and the TARDIS behind. Just for one year. A year during which she would live on Kaldor, and get to know her sister Tula all over again.
But Kaldor is going through a period of tumultuous change. Technology is changing at an advanced rate — the robots are evolving, artificial intelligence is adapting, and with these changes so politics is altering too. Dangerously.
Can Liv and Tula make a difference during the most turbulent time in the world's history?
The Robots of Life by Roland Moore
The Sentient by Robert Whitelock
Love Me Not by John Dorney