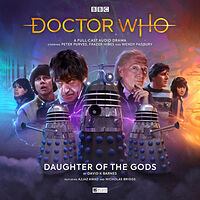 Note: Exclusively available from the Big Finish website until Dec 31st.
Cover blurb:
When Zoe reattaches an old piece of equipment to the TARDIS console, she, Jamie and the Doctor are very lucky to avoid a collision.
But the place they find themselves in may be even more dangerous — because there they encounter another Doctor, a space pilot named Steven... and a young woman called Katarina — who really shouldn't be there....