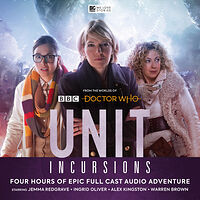 Note: Exclusively available from the Big Finish website until June 30th.
Cover blurb:
FOUR HOURS OF EPIC FULL CAST AUDIO ADVENTURE
Threats to our planet come in many forms. Some are alien visitations, some lay dormant in Earth itself, and occasionally, danger arrives with a big gun and fantastic hair. Whatever the threat, whoever the enemy, UNIT is ready to defend the world.
THIS SLEEP OF DEATH by JONATHAN MORRIS
TEMPEST by LISA MCMULLIN
THE POWER OF RIVER SONG by GUY ADAMS