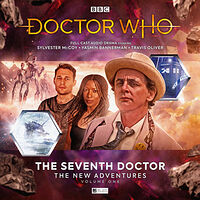 Note: Box set of new audio dramas re-teaming the Seventh Doctor with Roz Forrester and Chris Cwej, two of his companions from The New Adventures series of 1990s novels. Contains The Trial of a Time Machine, by Andy Lane, Vanguard by Steve Jordan, The Jabari Countdown by Alan Flanagan and The Dread of Night by Tim Foley.
Cover blurb:
No cover information available yet.
Help wanted! Do you own this item? Please help make this site more complete by emailing me details of the back cover blurb. Thanks!